Time for a nice long weekend without running around through nature, but just stay in 1 place.
We arrived Friday before dinner time in a relative flat area, where we've been before a couple of times.
We tried to find in the dark the same place where we stayed twice before, but where not successful in this.
The area is quite swampy, so with the necessary muddy shoes / pants, we settled on a nice place that was good for a camp.
The whole area was soaking wet, so we took down a couple of dead standing spruce tree's for our evening fire.
One we split open with our axes, and that would become the base for the following pieces of wood.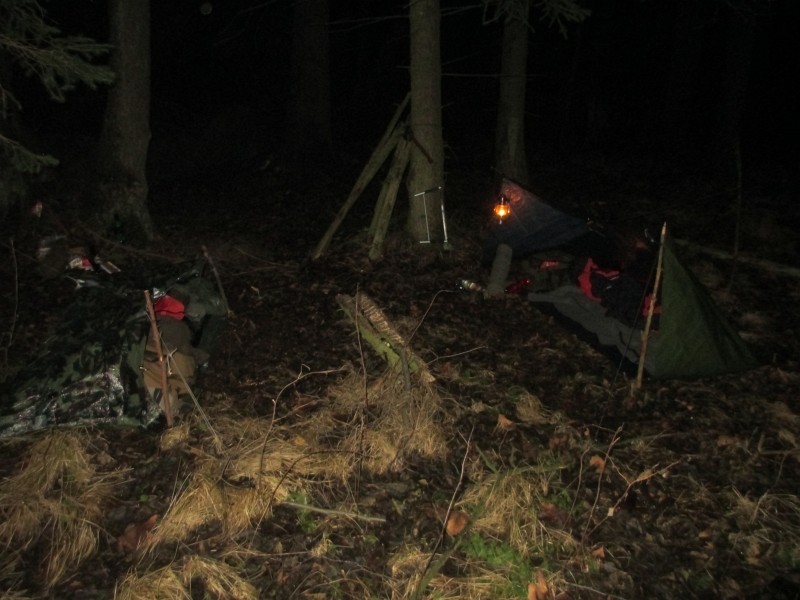 Wood supply.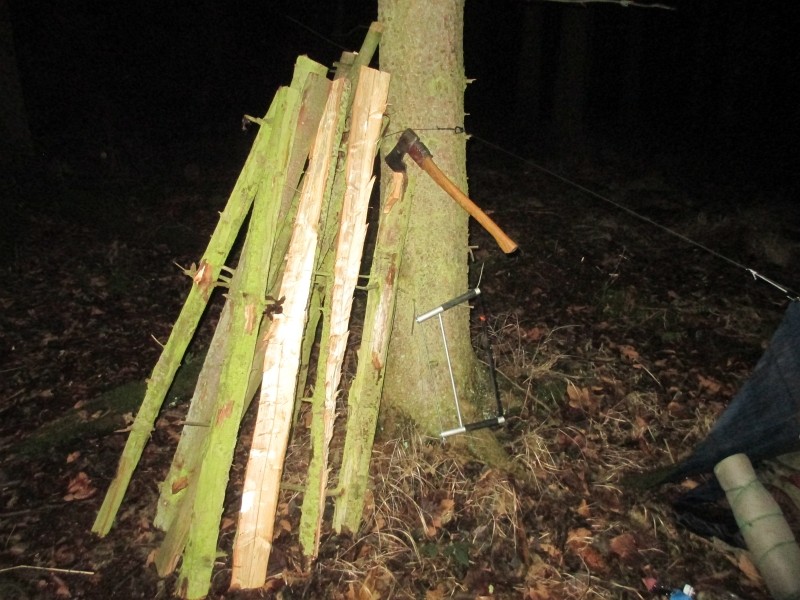 Between the logs we put small twigs and birch bark and lit it up.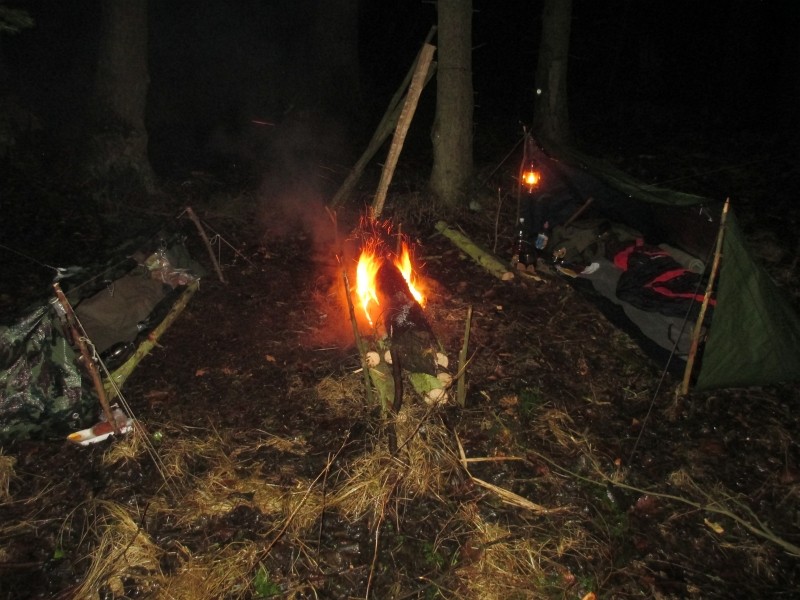 Enjoying the warmth after a though walk in and getting all the wood.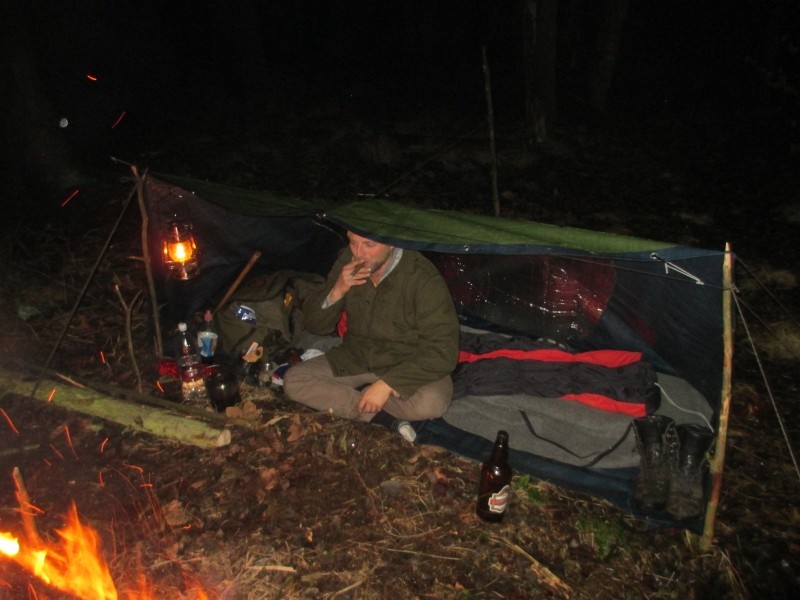 The fire spread nicely along the whole lenght.

During the evening and night we had a light snow and rain fall, simply perfect to listen to it, and watch the fire with a Lagavulin 16 years old from the kuksa, and a nice cigar.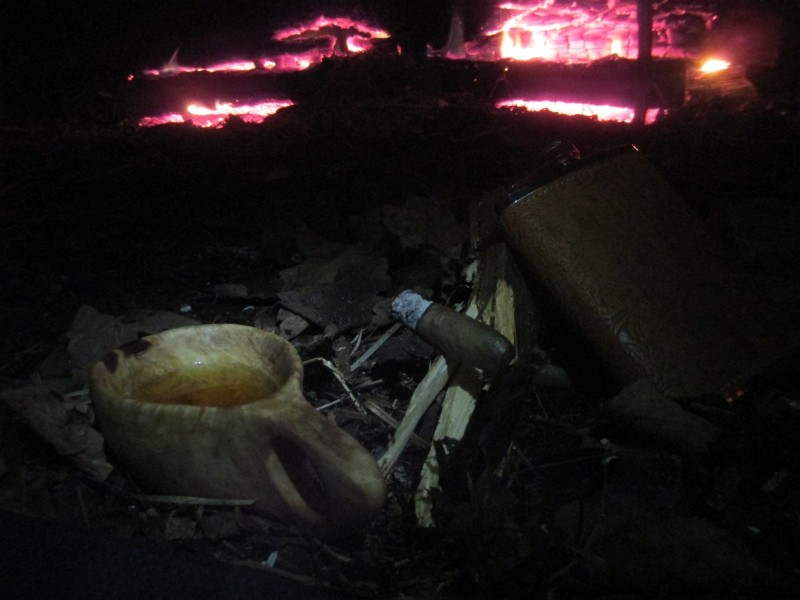 Next morning, this is Mireks setup, he used a 2×3 tarp with a emergency blanket taped to it for reflecting the heat.
Just enough space for 1 person, his backpack stayed outside under his rain poncho.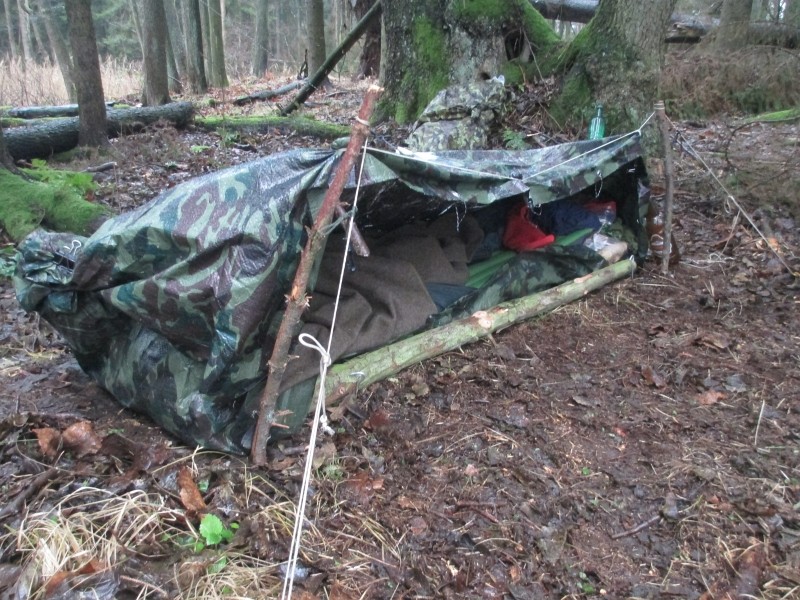 My setup, it used to be a 3×4 tarp, but cut to size for this setup, and as heat reflector a window protector.
Both of us has summer sleeping bags, inflatable mattress, inside a woolen blanket to protect us from the sparks.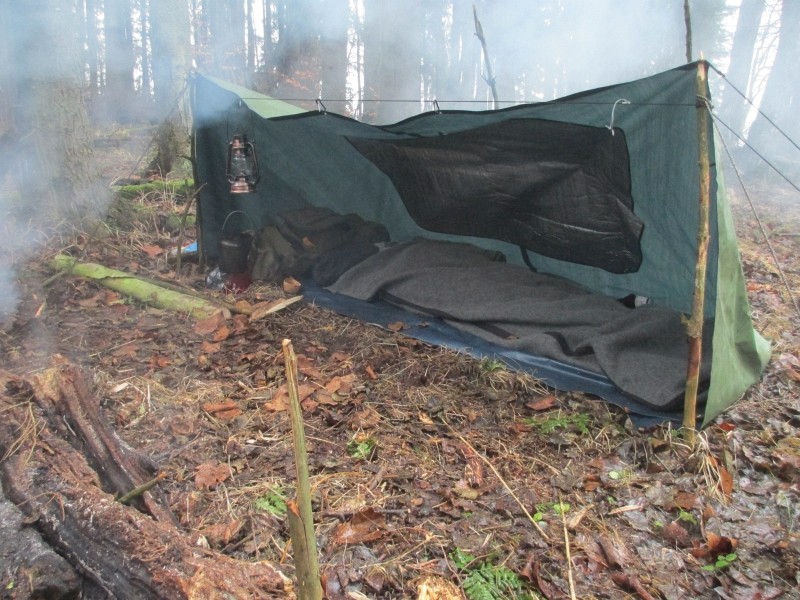 Backside, 2 pullouts to give more space inside for sitting.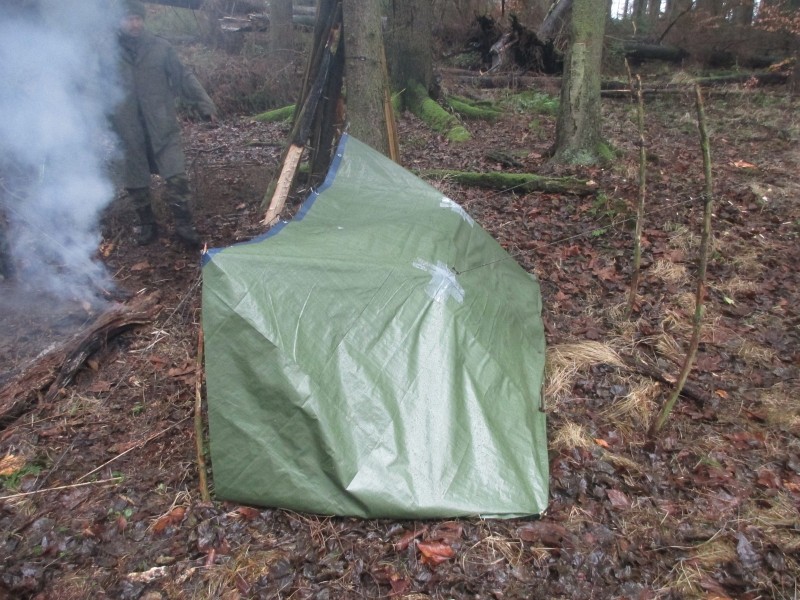 Cutting wood and preparing breakfast.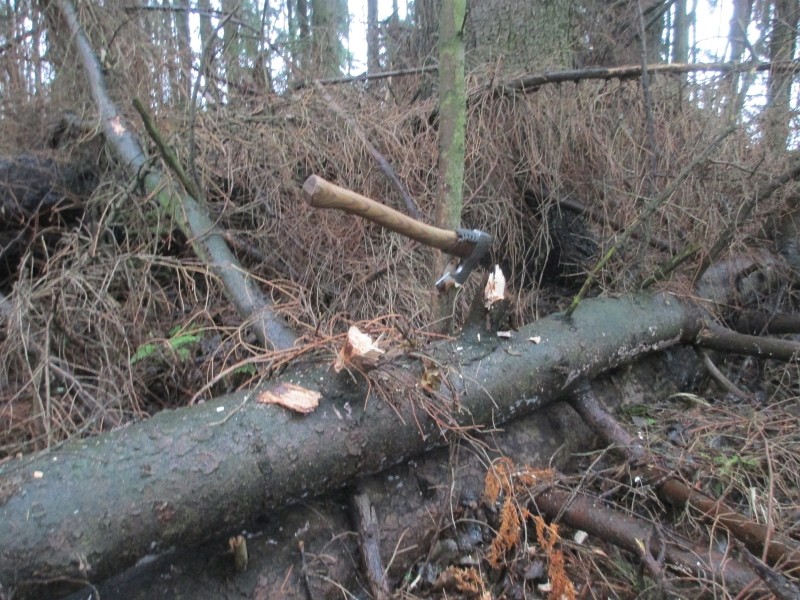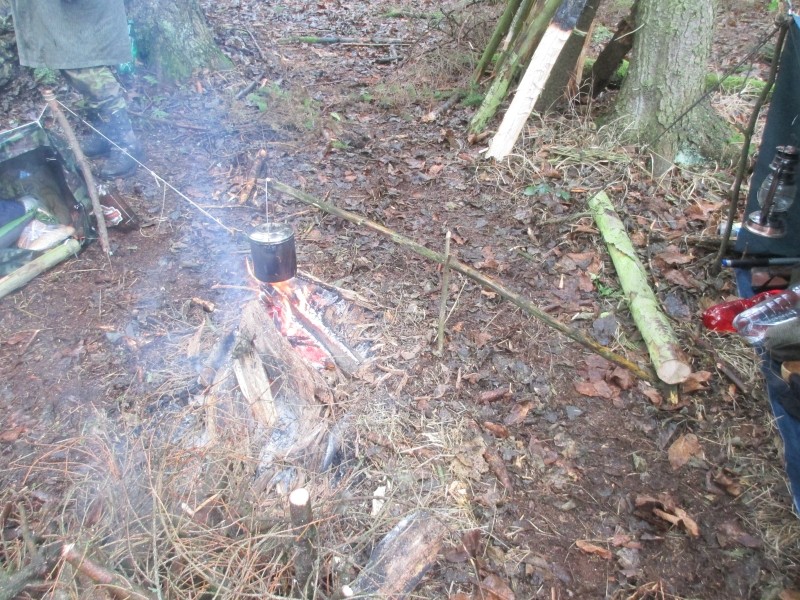 The modifications on the billy can are perfect. The ring on the lid works very well, and in general does not even get hot.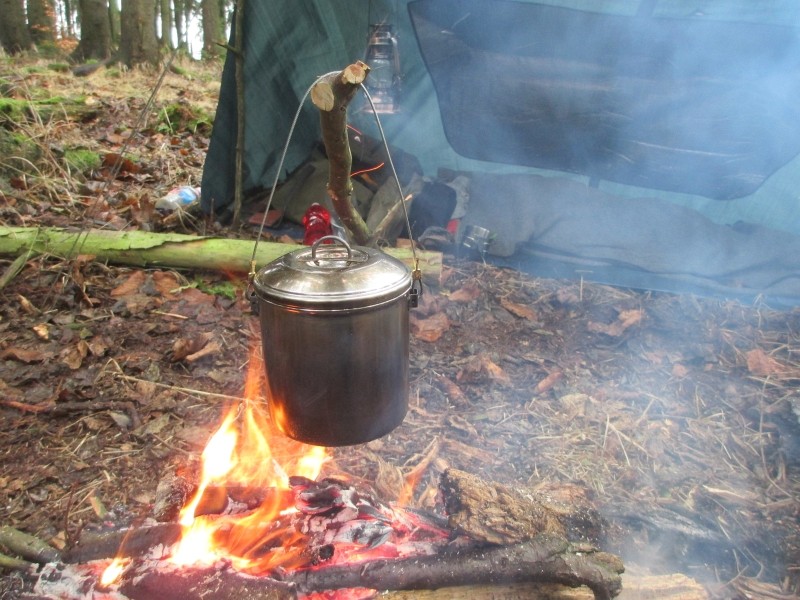 Curry soup with pieces of bread to give it some volume.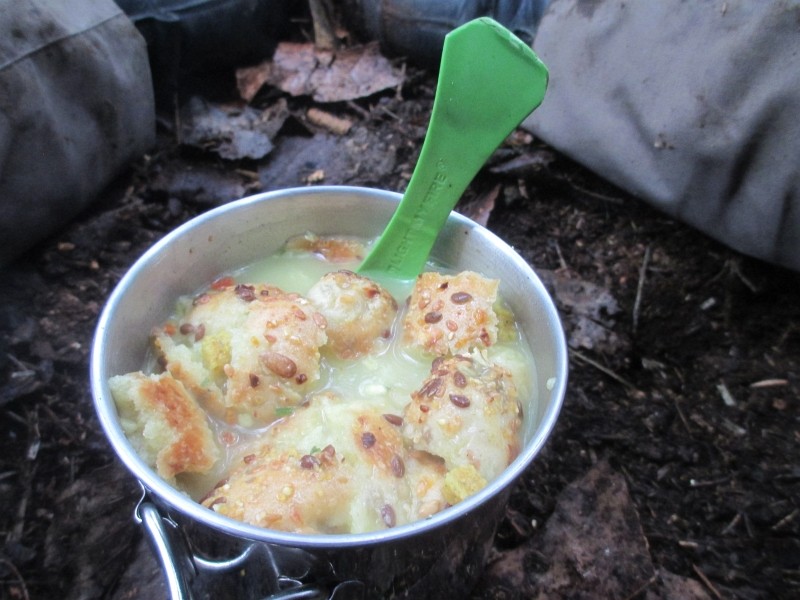 And steak.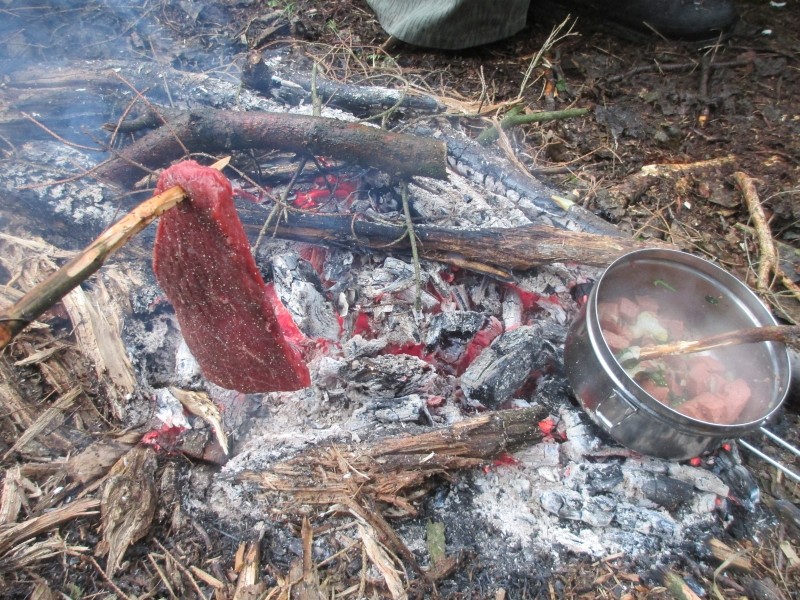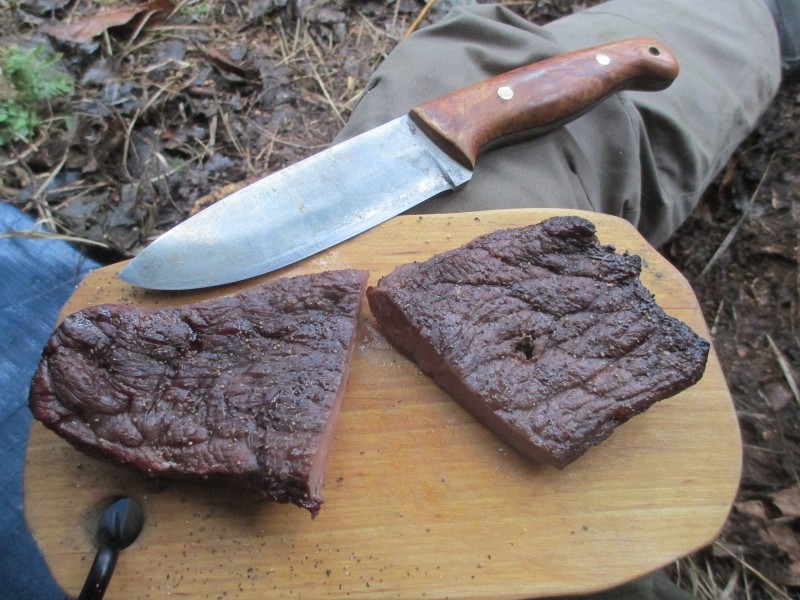 Time for a walk around the area, and try to find the old camp spot.
Our new camp was about 50 meters from these fallen tree's.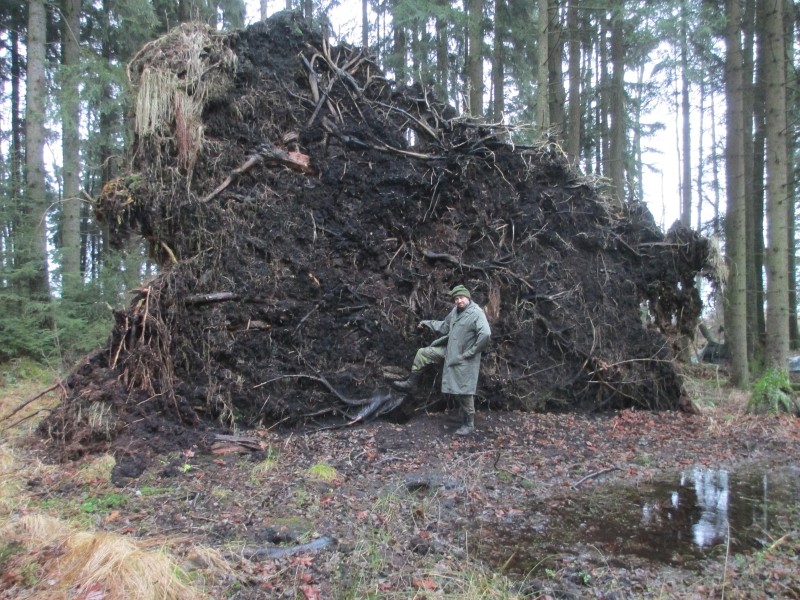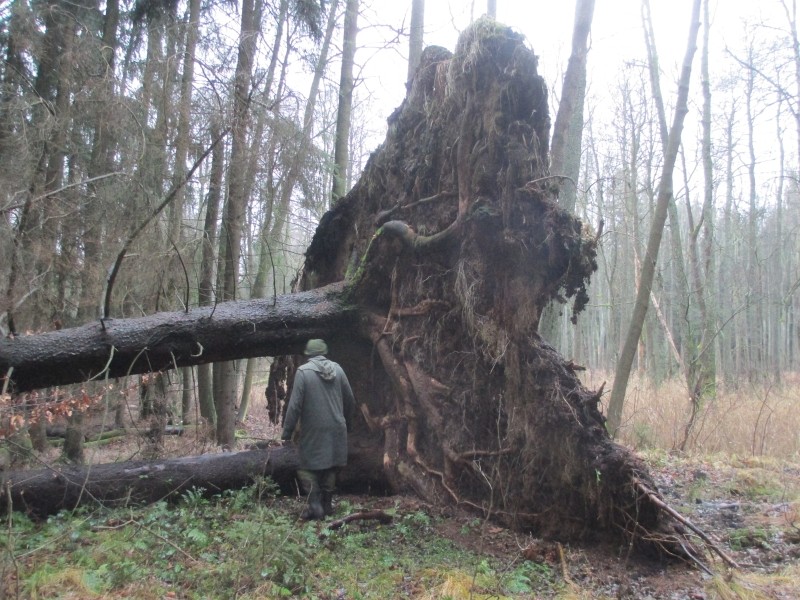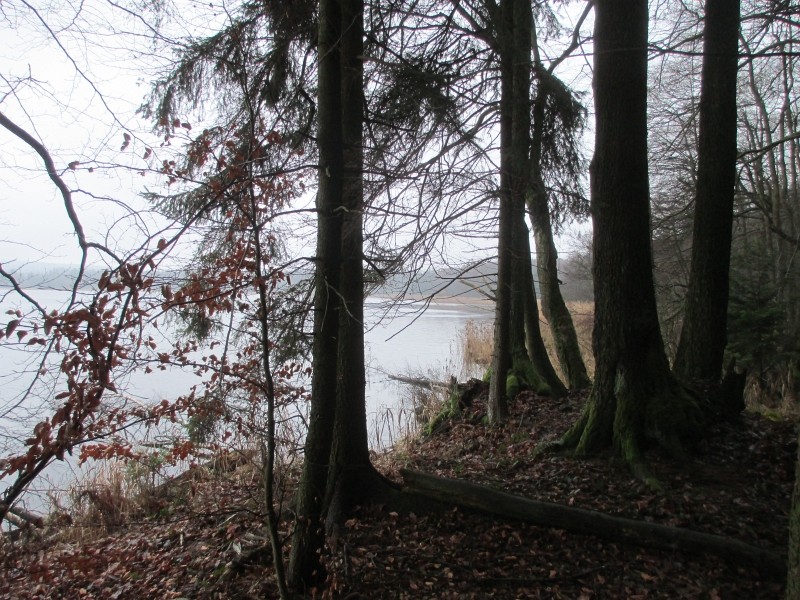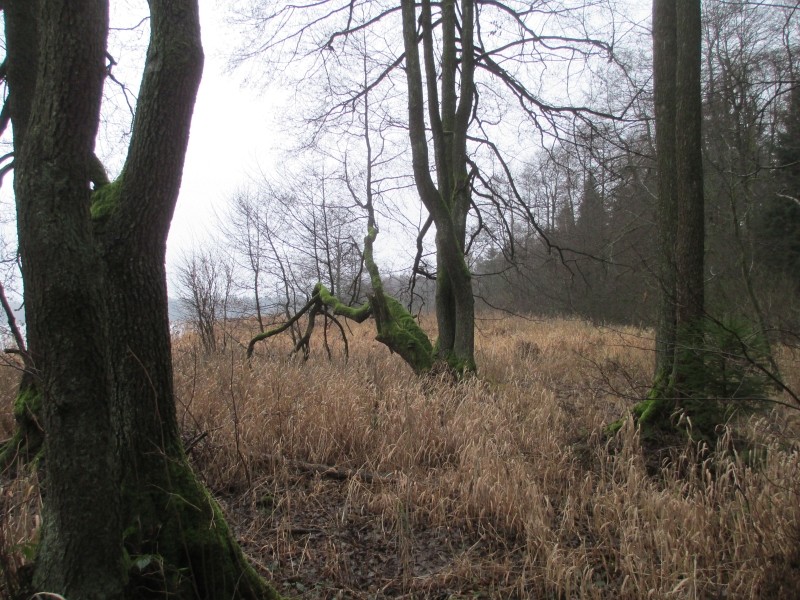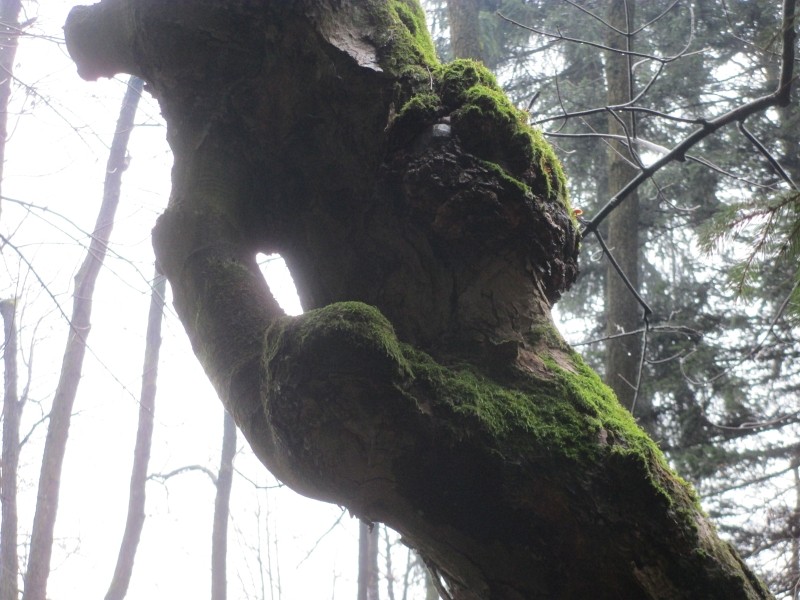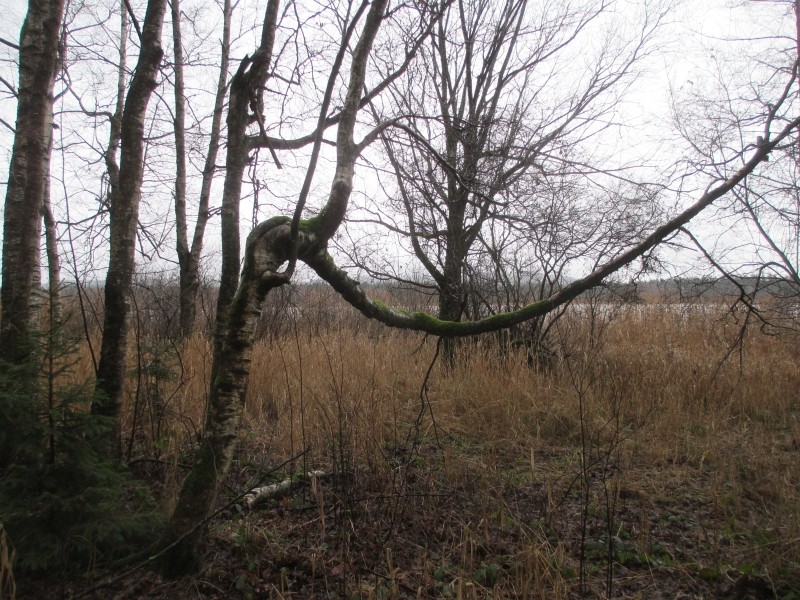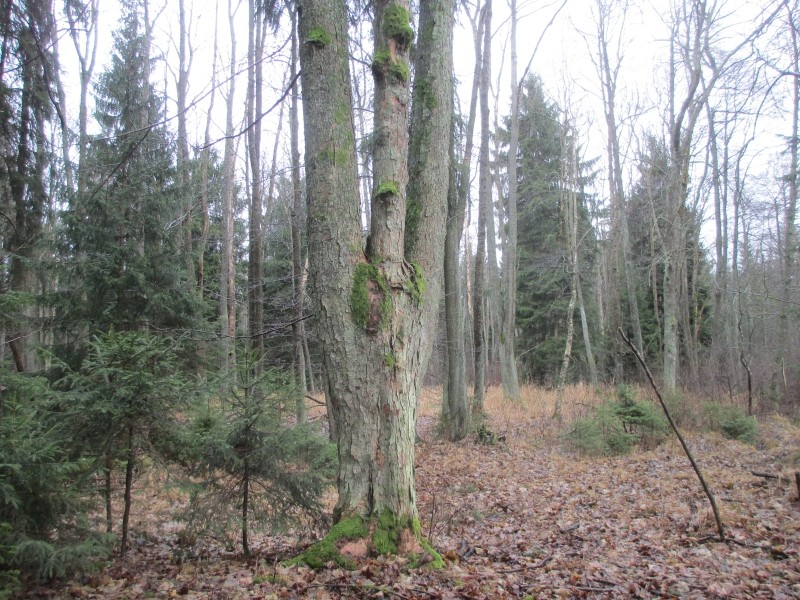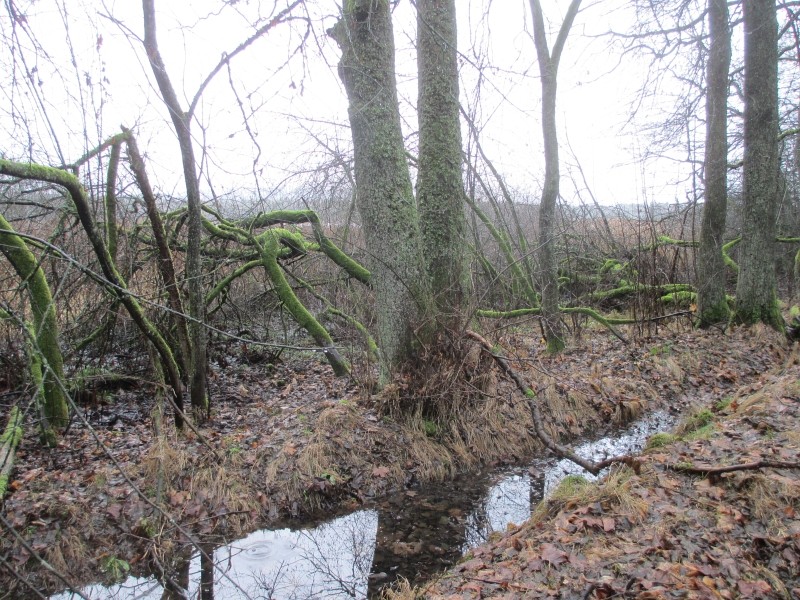 This used to be a monastery with the earliest written record about it's existence from 1353.
You can still see the outlines and some rocks laying around.
It was destroyed on the 8th of February 1421 during the Hussite wars.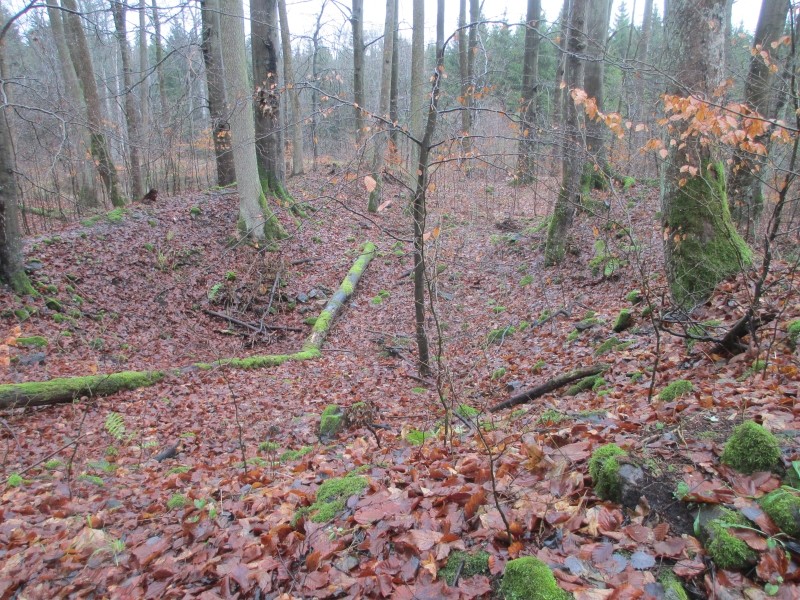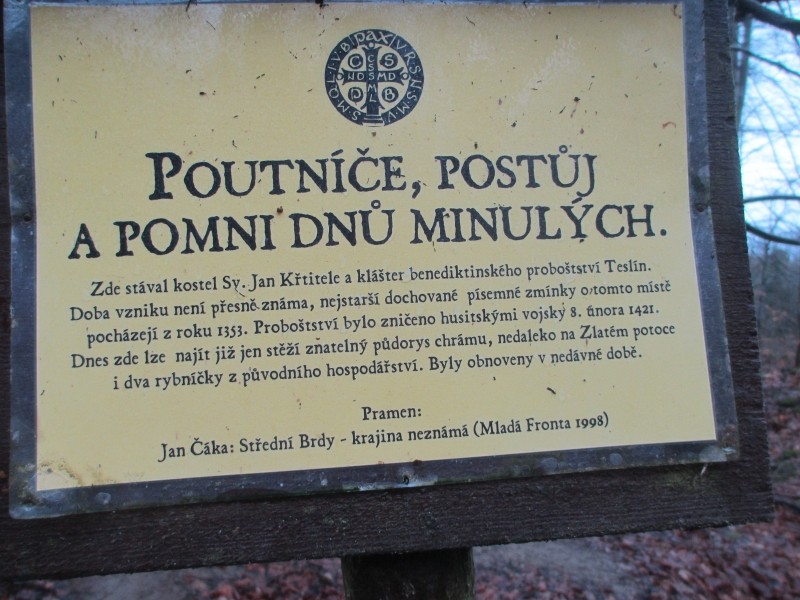 And we found our old camp spot, perhaps 150 meters from our new one….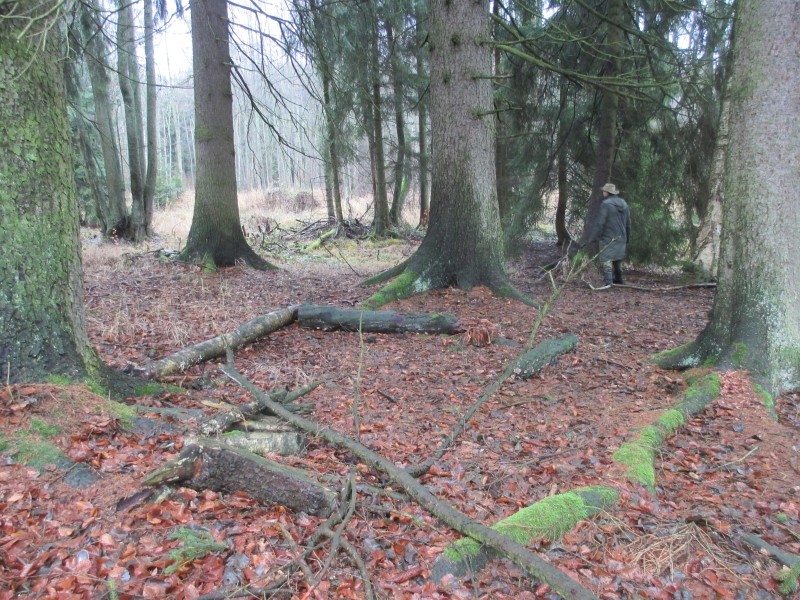 After lunch time we started preparing wood for the new long fire.
The one from the previous night was done with logs of around 15 cm thick, and dead spruce burns very quickly so we (Mirek) had to reload the fire a couple of times during the night. We didn't need the heat that much though since it was not that cold.
So for this night we tried to find some dead hardwood, but no luck. We settled for another dead standing spruce tree, but around 25 cm thick. Four logs where prepared for this.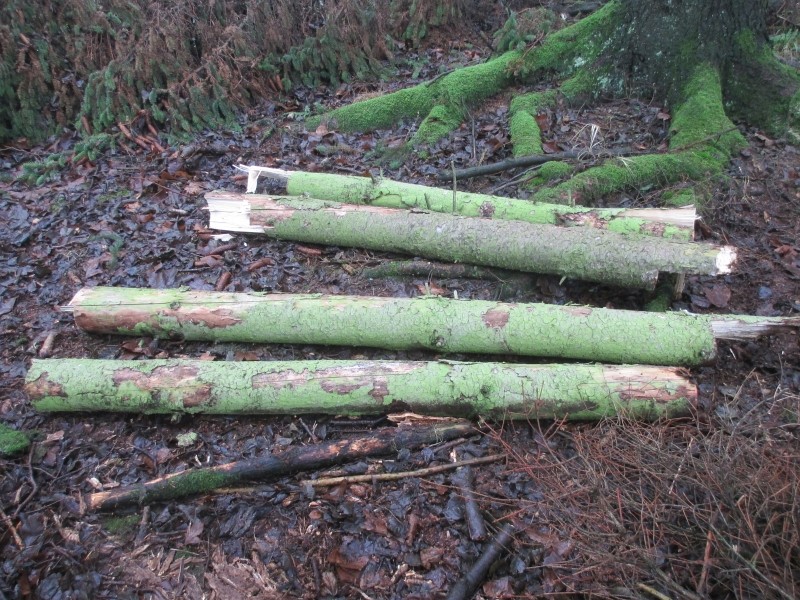 I tried to make a spoon for my billy can cook set, and used a piece of birch. It had some wet spots but it looked like I could carve those out.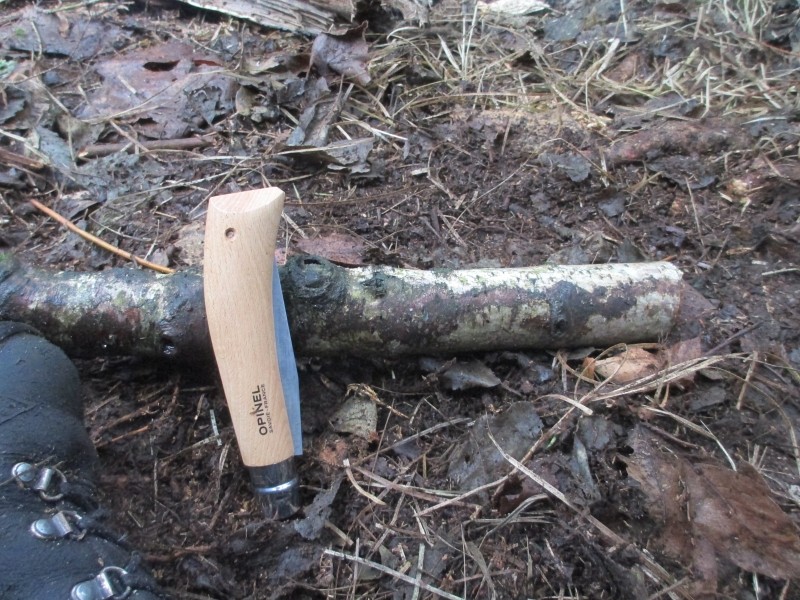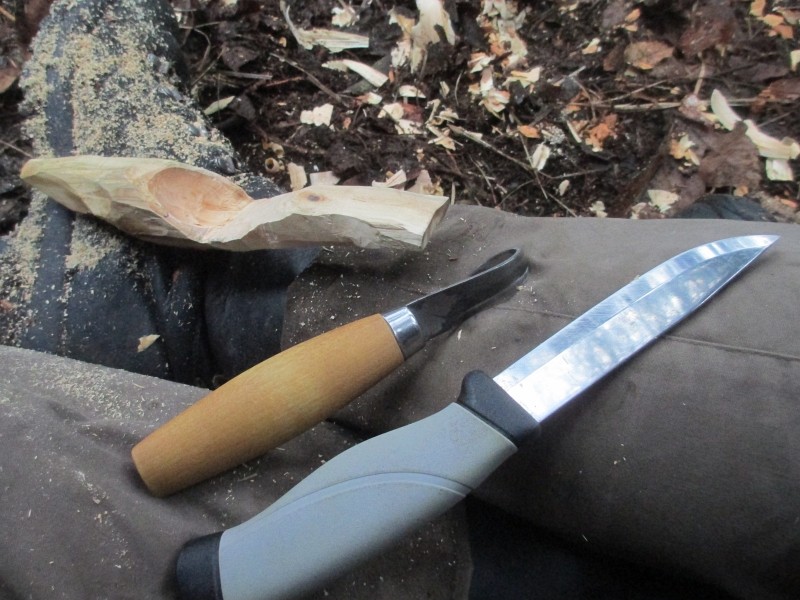 Almost when finishing in the spoon part seemed to be a wet spot as well, and there it broke.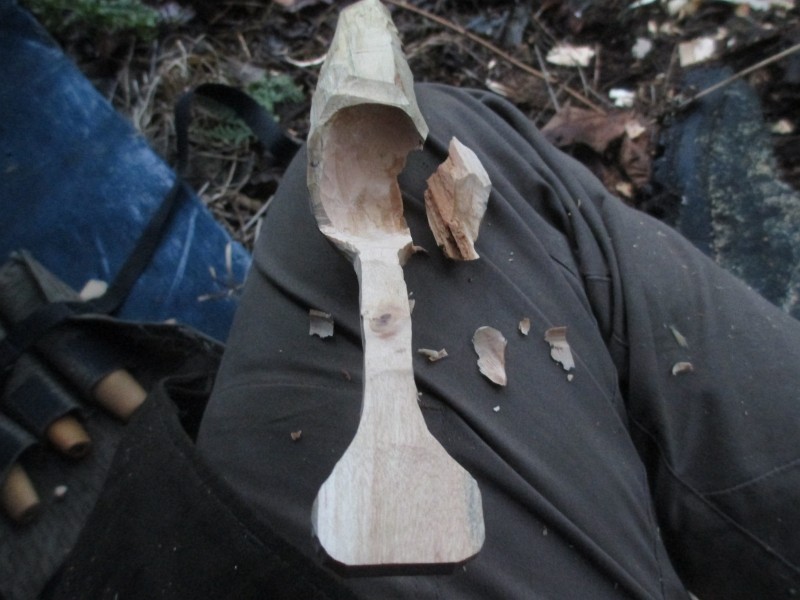 So a new try, this time from alder (els). Quite a bit harder to carve. I told myself no dinner without a spoon.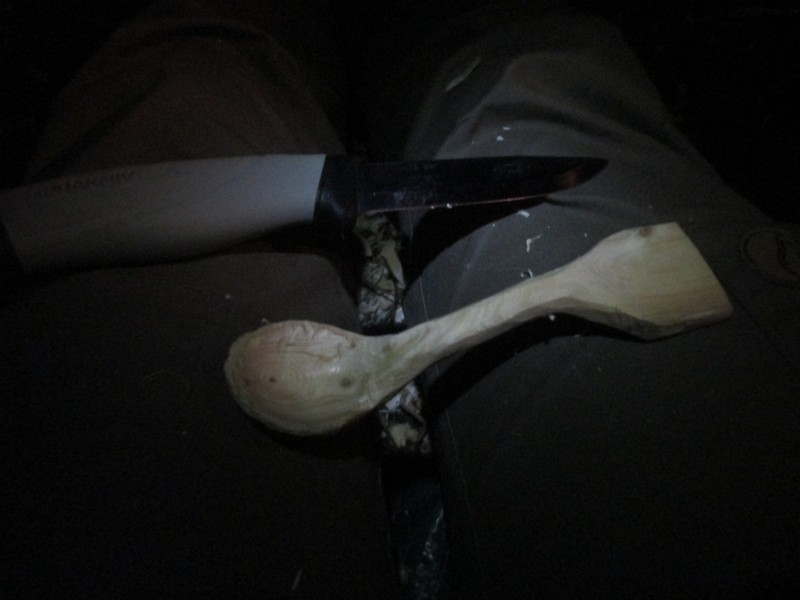 Good enough for eating, so dinner was made.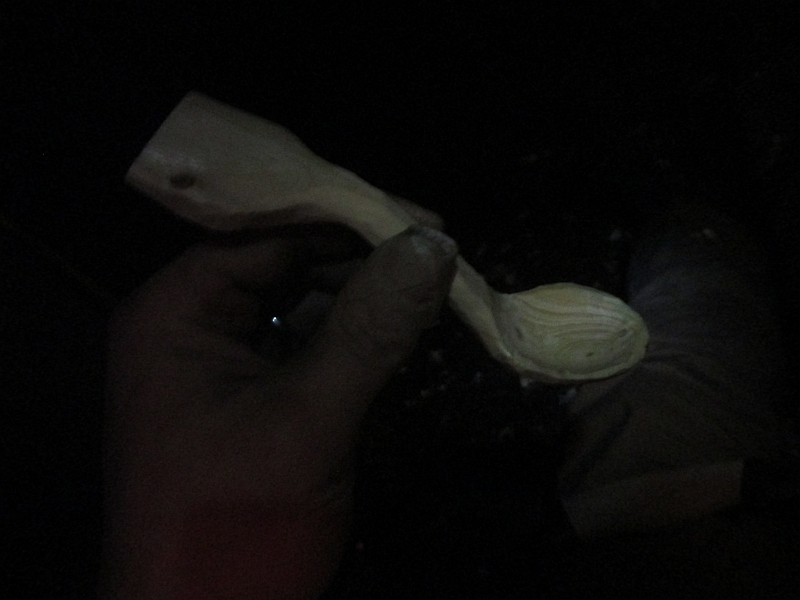 Time to prepare the long fire. We removed all the hot coals from the dinner fire, placed the logs, added those hot coals, fine twigs, medium twigs and lots of birch bark. It took a while before the big logs caught on fire, but it worked just fine.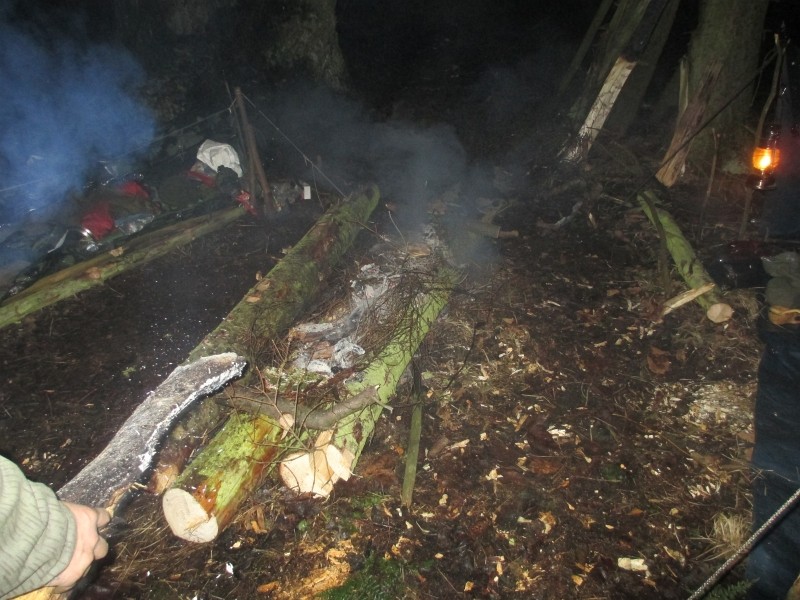 The horizontal pieces where there to provide oxygen flow, but we removed them once it burned properly.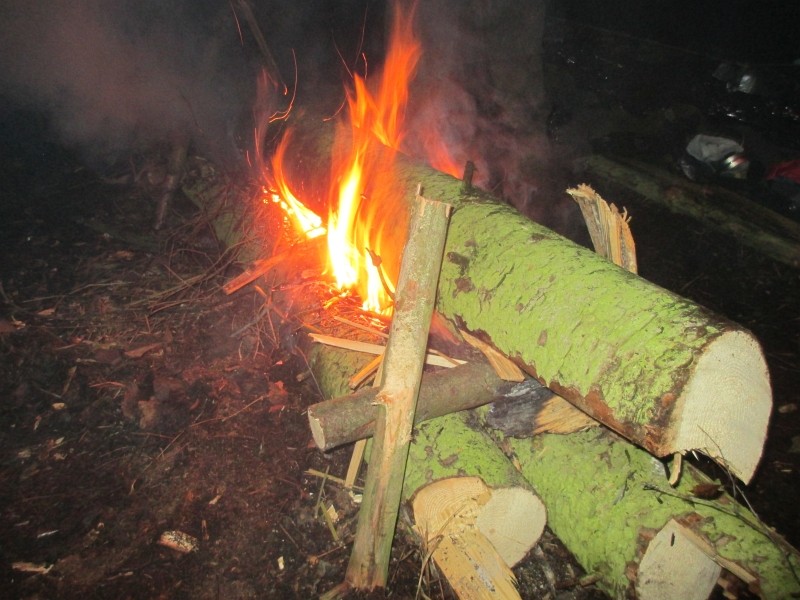 On each side a log as well in case the support poles would burn through and a big log would start rolling.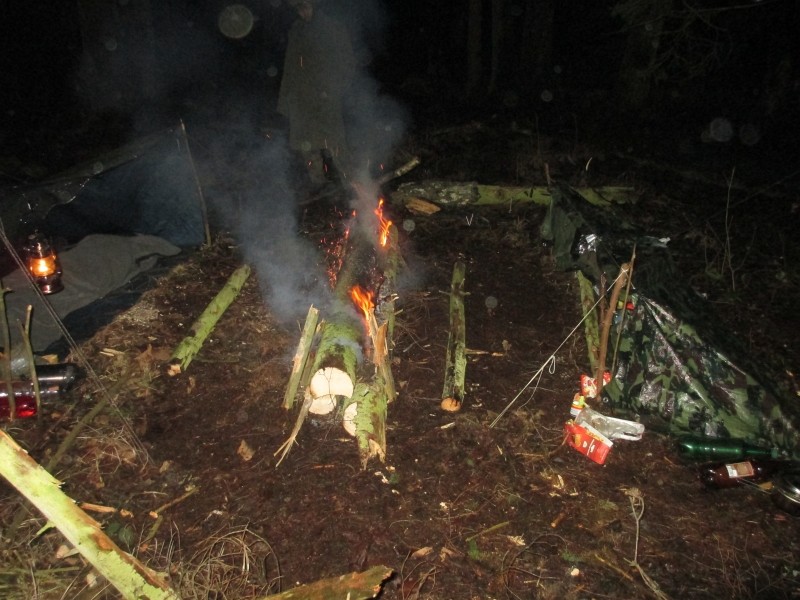 It clearly gave a whole lot of heat more, I felt like sitting in a sauna. I had only a t-shirt and my pants. No socks, not sweater or hat necessary.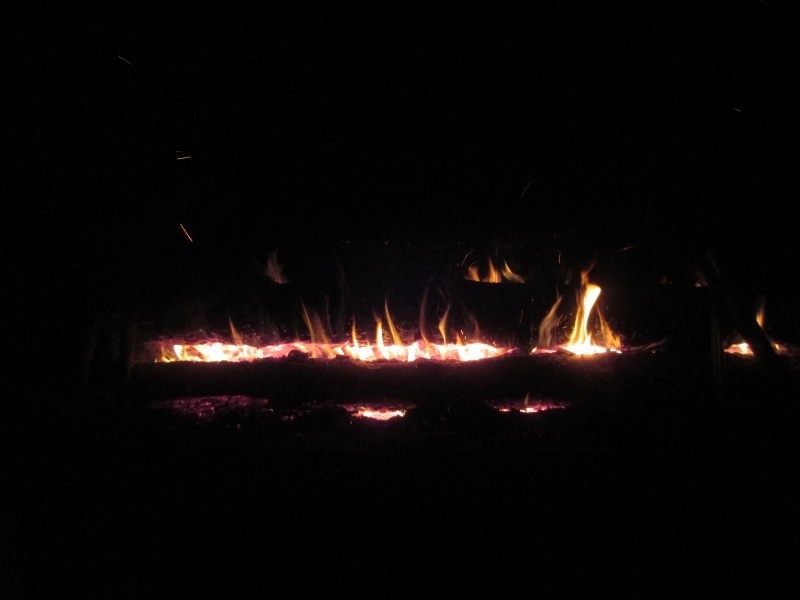 During the night we had to refill it twice, first with the fourth big log, and then twice with a thinner one from the previous night.
Pretty sure if we had some hardwood to use, it would not have been necessary and it would have lasted all night.
The remains of the fire.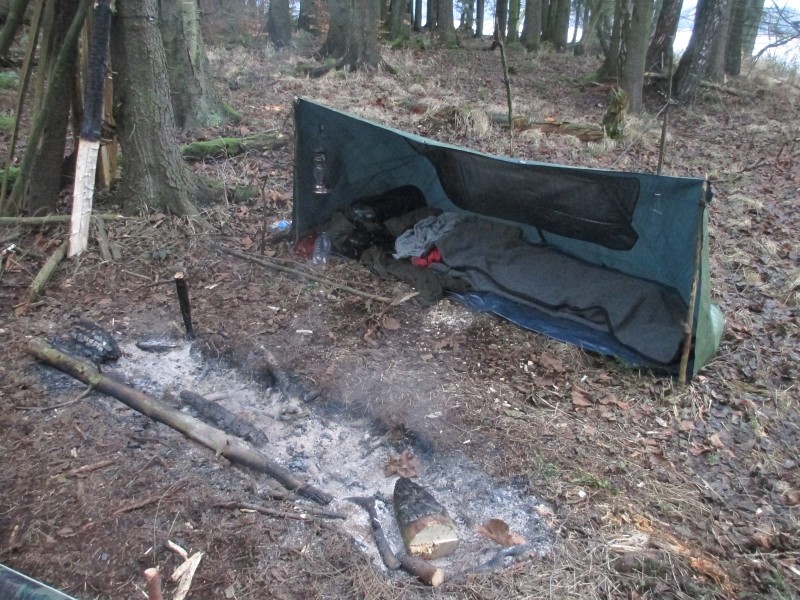 The woolen blanket provided good protection, even behind me where quite big pieces of coal that sometimes flew from the fire.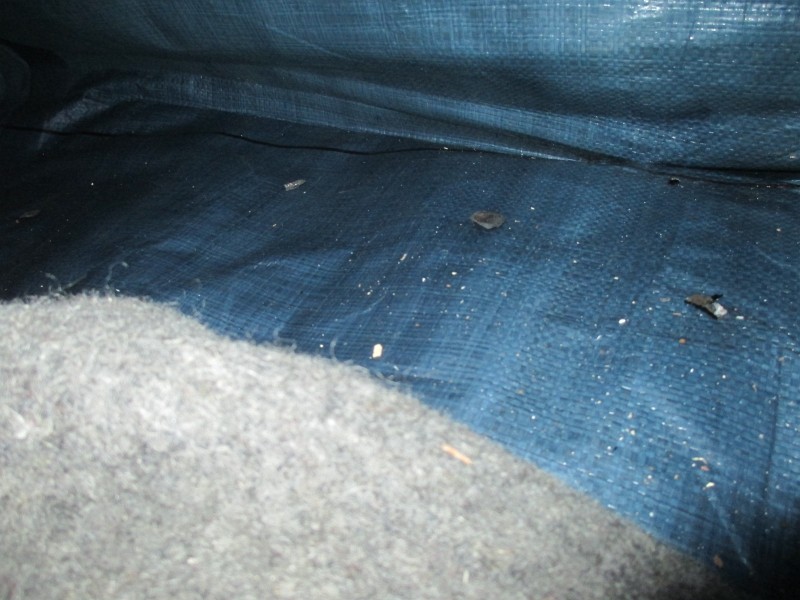 Time for breakfast.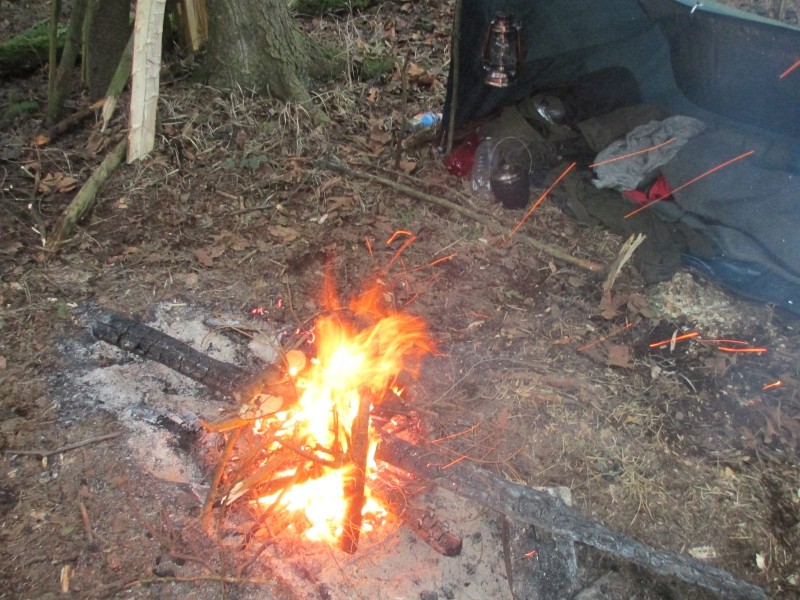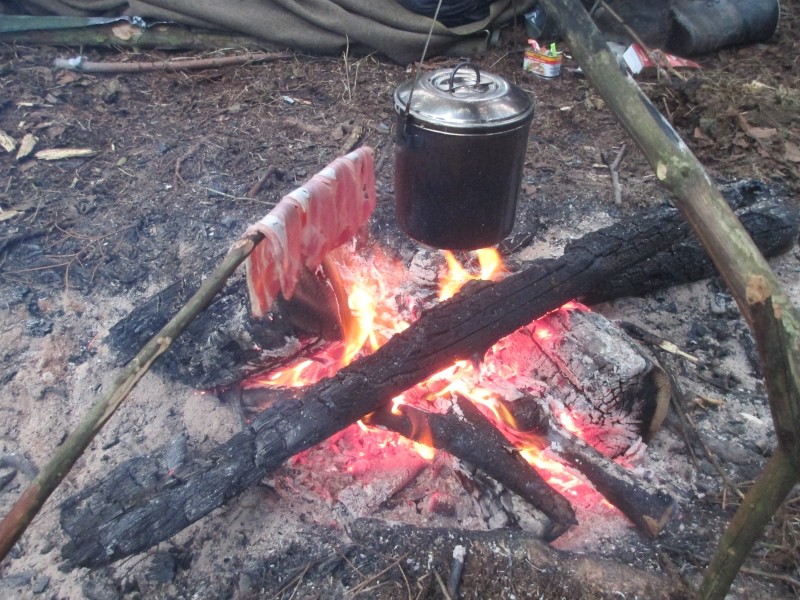 Bacoon, soup and bread.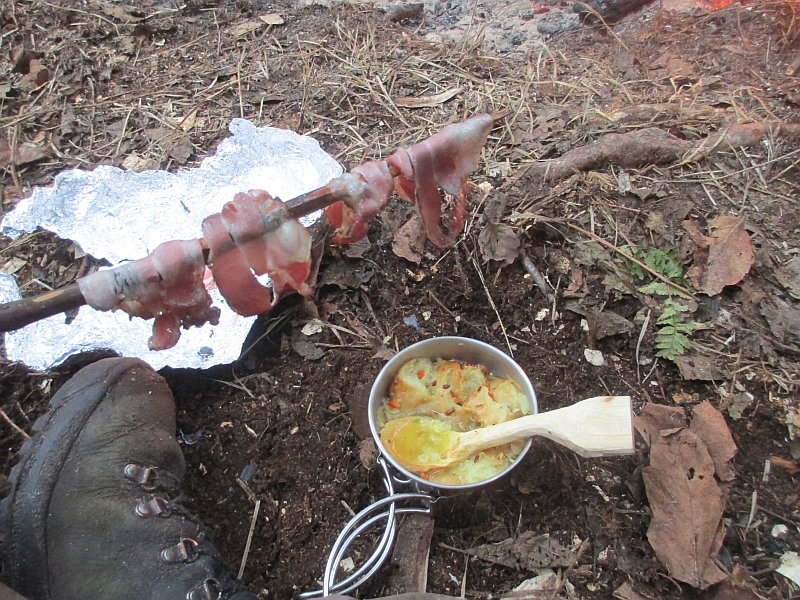 To eat it properly, I made a quick chair.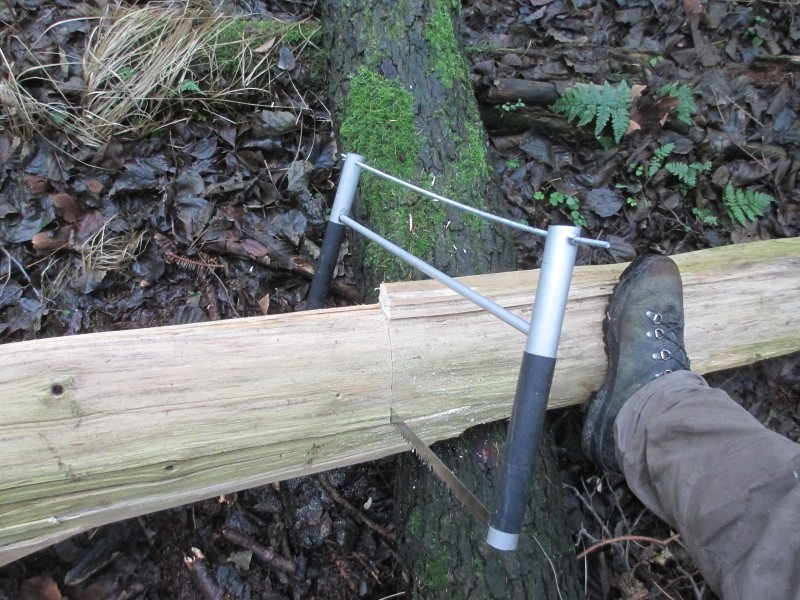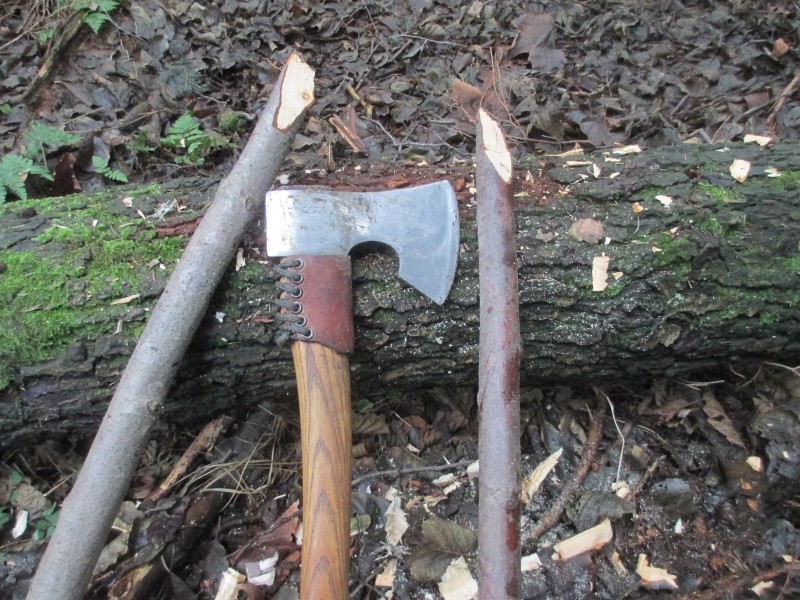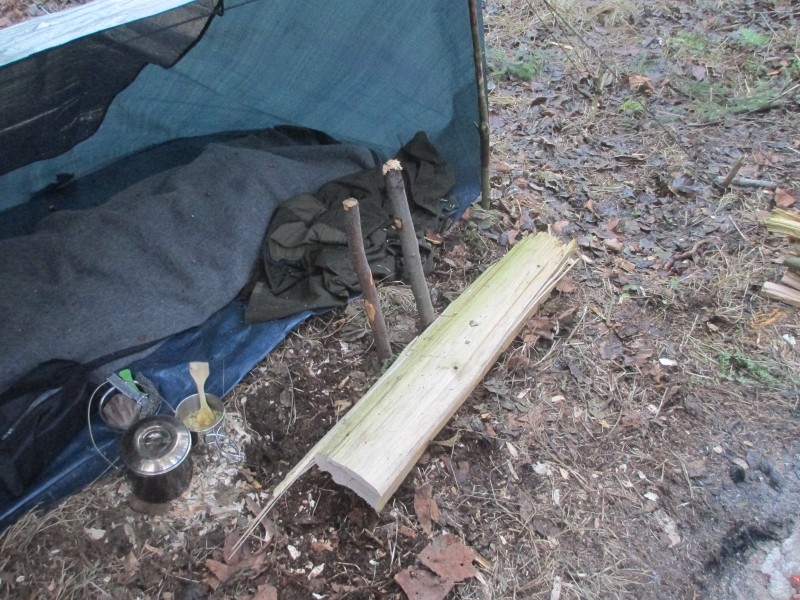 Mirek enjoying his breakfast.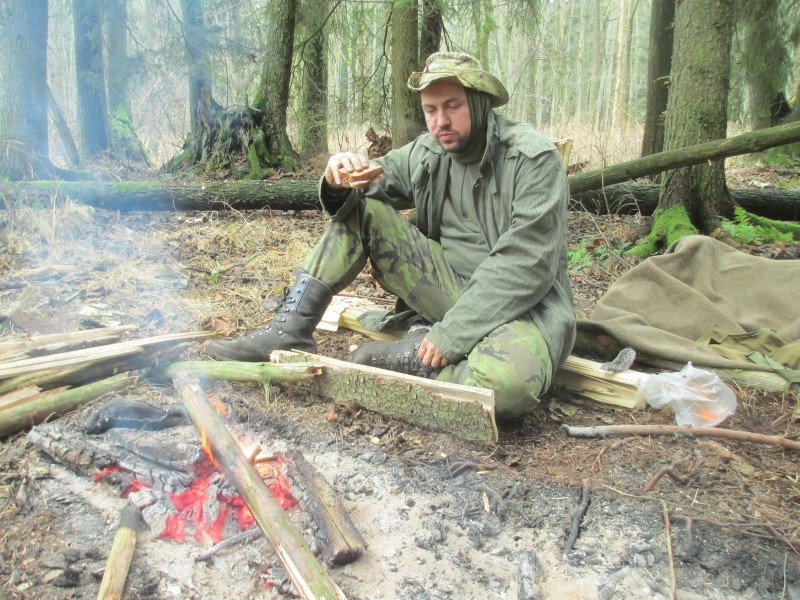 Me fine tuning the spoon a bit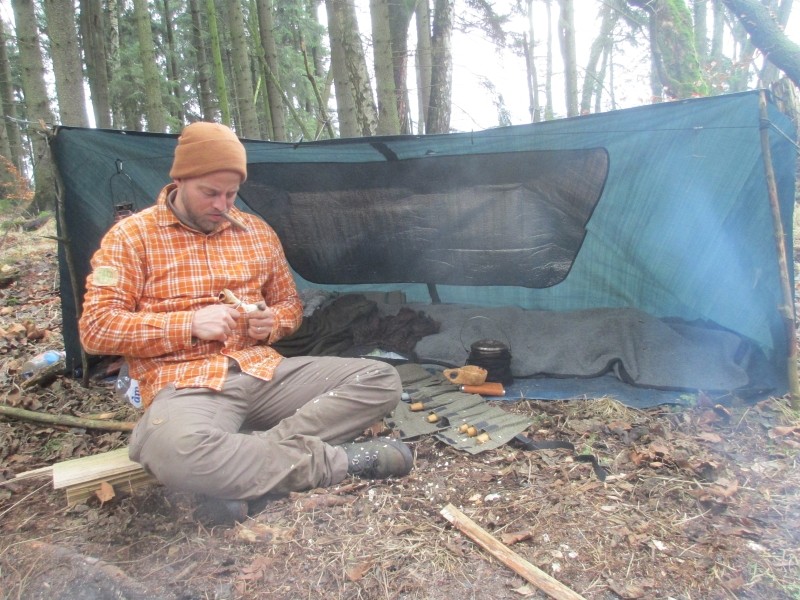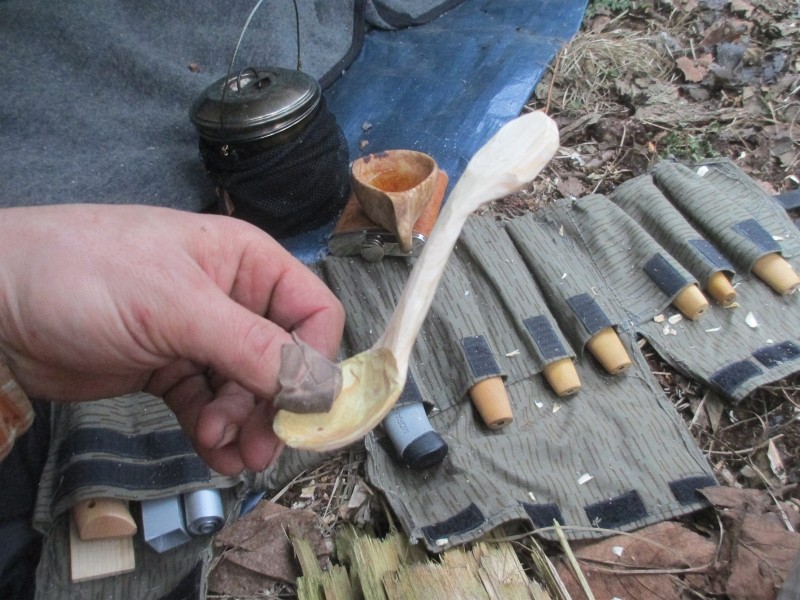 From the nearby streams we took around 50 liters of water to extinguish the fire remains.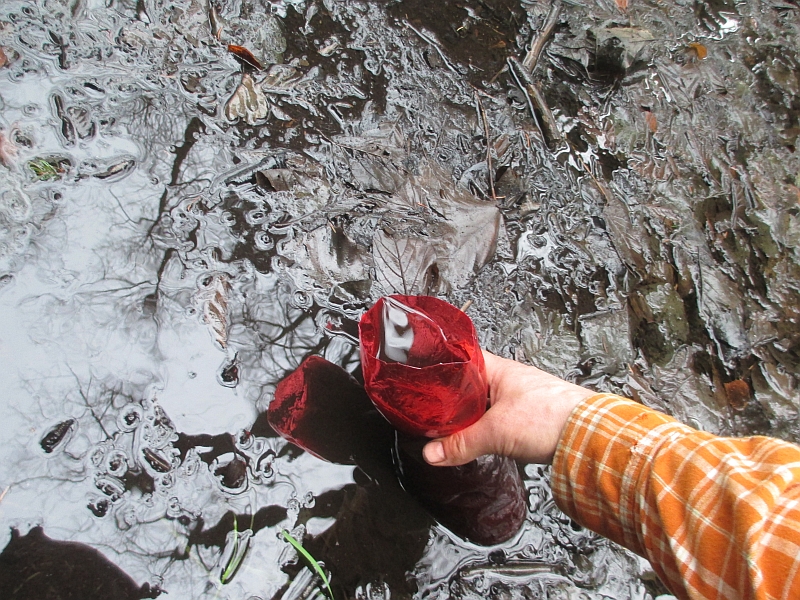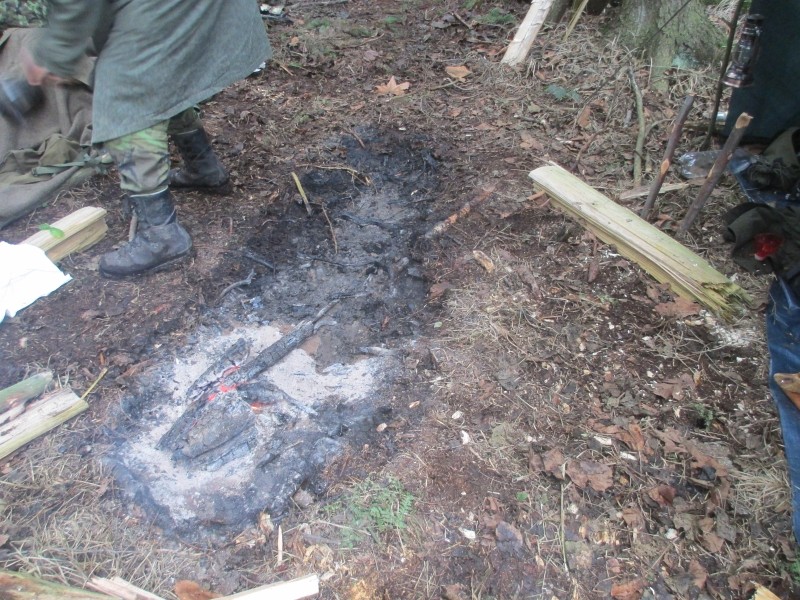 While cleaning up camp, we cut down these 2 Alder (Els) burls for future projects.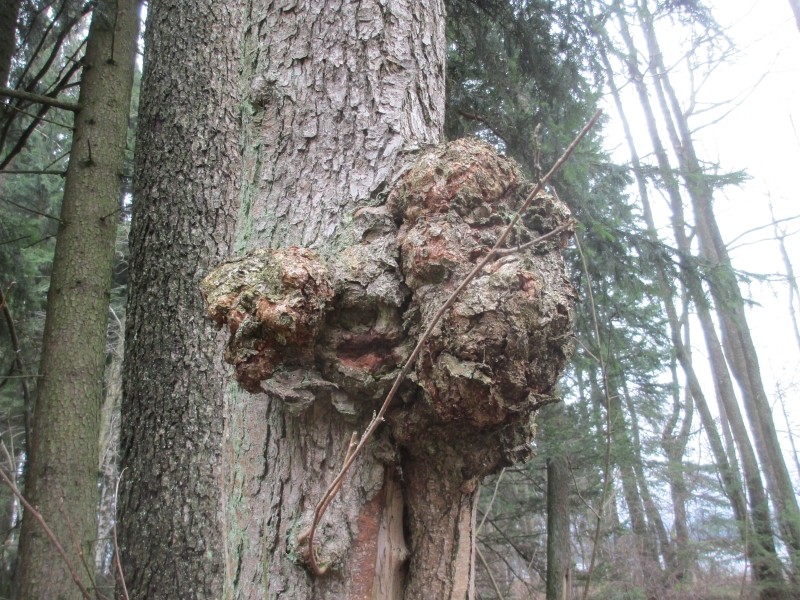 Covering up the fire pit, leave no trace.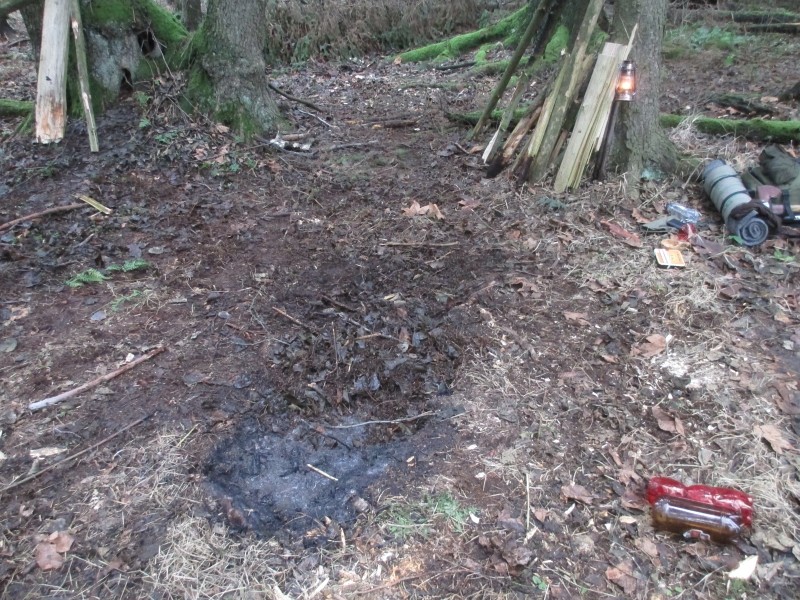 The leftover wood we left standing there for a possible next time. Other then that, no trace left.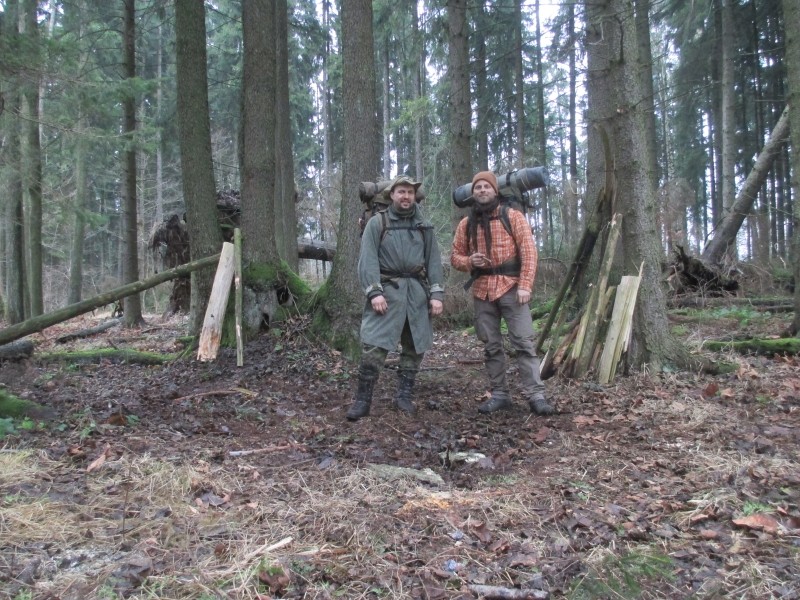 And so began our journey back to the car through the swamps. During daylight it was much easier to avoid getting deep in the mud 🙂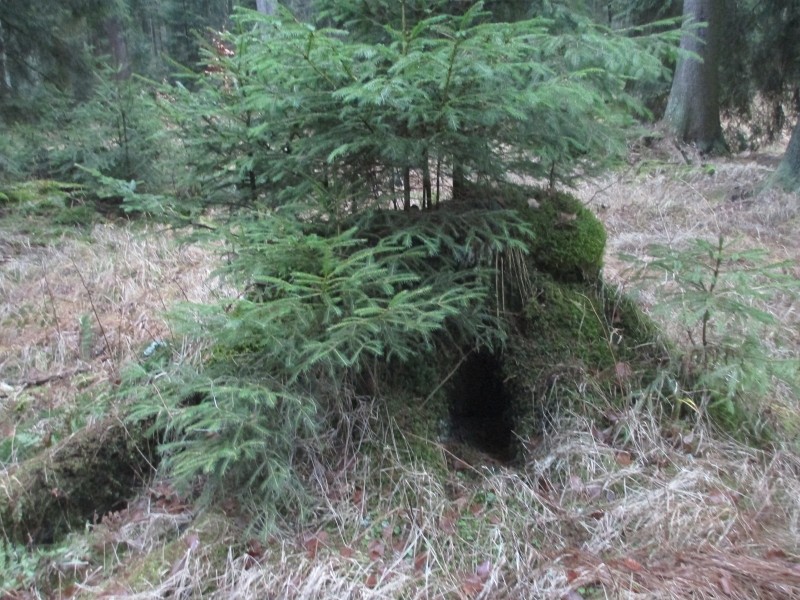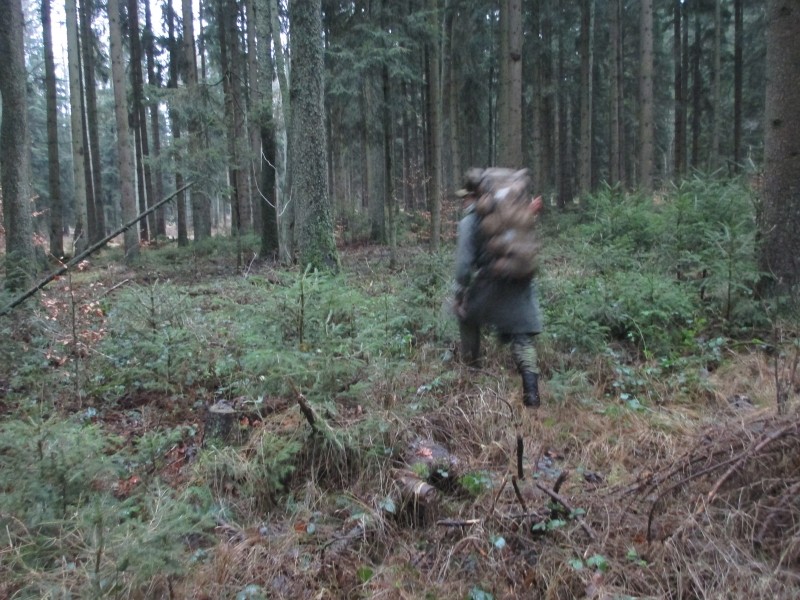 In the near by local pub, we had a lunch and a beer. The people there where very friendly, and the food was great.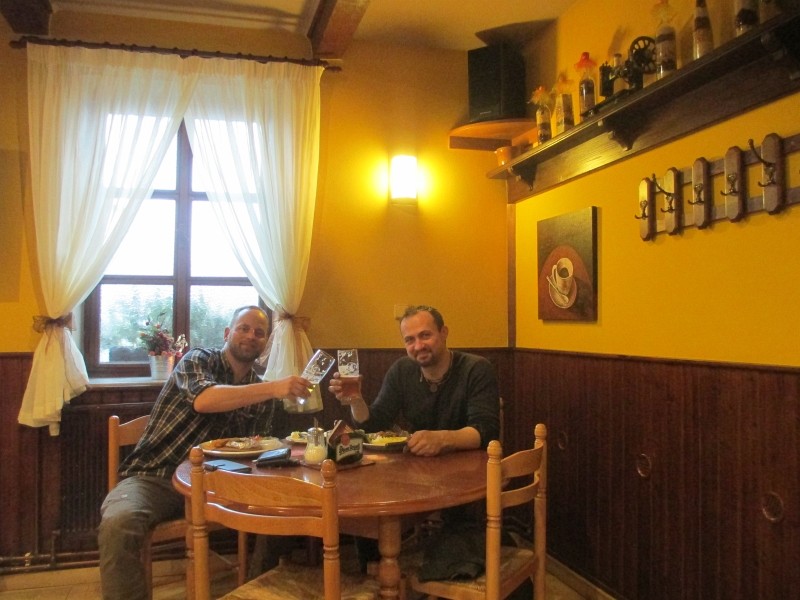 Even the police guys who stopped us a few minutes after leaving the pub where very friendly and even gave us a picture of my car, with some additional papers. Since they where so kind, I decided to give them some money in return for their gifts.
And the safely (but not so quick) back home