Some time ago I bought a Polish lavvu, M size (170-180), and used it a couple of times in the garden to test out some sleeping pads, Czech army bedroll, etc.
Problem was the space. Me being 177 cm tall, would barely fit it in.
Time passed and I attended a winter bushcraft camp early this year in The Netherlands, and several people used Bell tents to sleep in. I was quite impressed by the size and space it had, but due to the weight it would be not possible to transport it during a hike by foot.
Coming home from that bushcraft camp, I checked the possibilities of buying one (too expensive for the very few times I would really use it), or making one from ripstop nylon (good alternative, but not really fire proof since I wanted also the possibility of having a woodstove inside).
Some time passed again, and a member of the Dutch bushcraft forum offered unused Polish Lavvu's for a nice price. I asked him if he had a size L (180-190), and yes he did. The deal was quickly made and a couple of weeks later I had it in my possession. The M size I sold to my friend Mirek.
And then I did some thinking, what if I would modify my lavvu to gain more space, but that it is still transportable in a backpack..
After a lot of youtube searches, I found that many people made mainly 2 modifications.
– hang it from a string so no tent pole is needed, results in more space
– add zippers so no fumbling around with buttons in cold weather.
No one else had the mod done which I had in mind.
I added the zipper part as well, but kept it with the tent pole, as I plan to use it in places where not tree's are.
So below are the modifications I made. It worked out pretty well, and I am happy with it.
Original.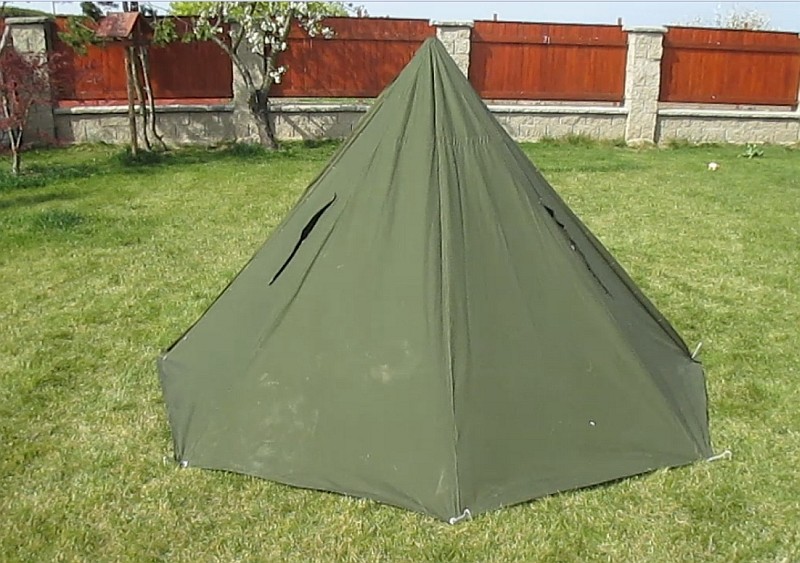 Finished.
– side skirt added, bell tent style. (from an old nva tarp)
– zippers & velcro added
– redundant material removed
– increased length of the tent pole
– added loops of webbing to not put stress on the bad rings (they many times tear out)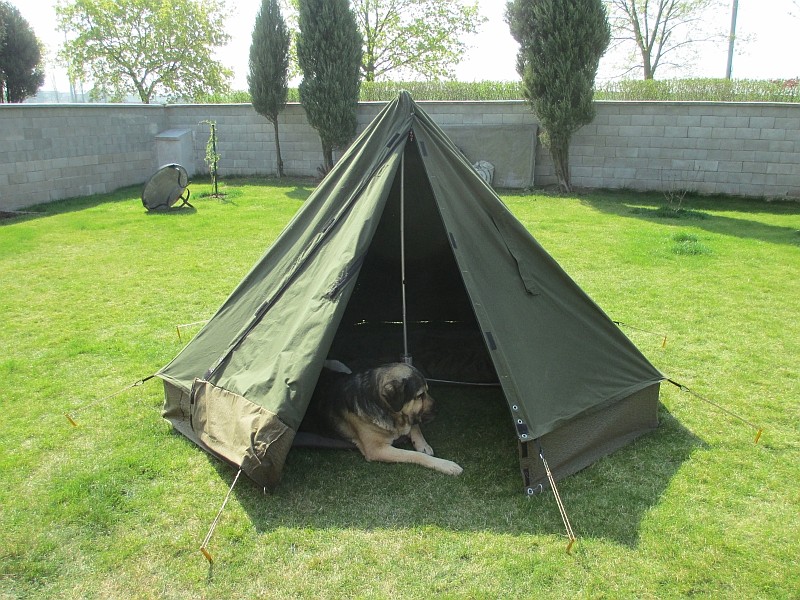 As you can see, by raising the whole thing by 23 cm (size of 1 tent pole part), I gained a lot of usable space.
At the moment of these pictures I did not receive the ordered additional tent pole piece, but while writing this I already have it. So to compensate the additional needed space, I used some cans.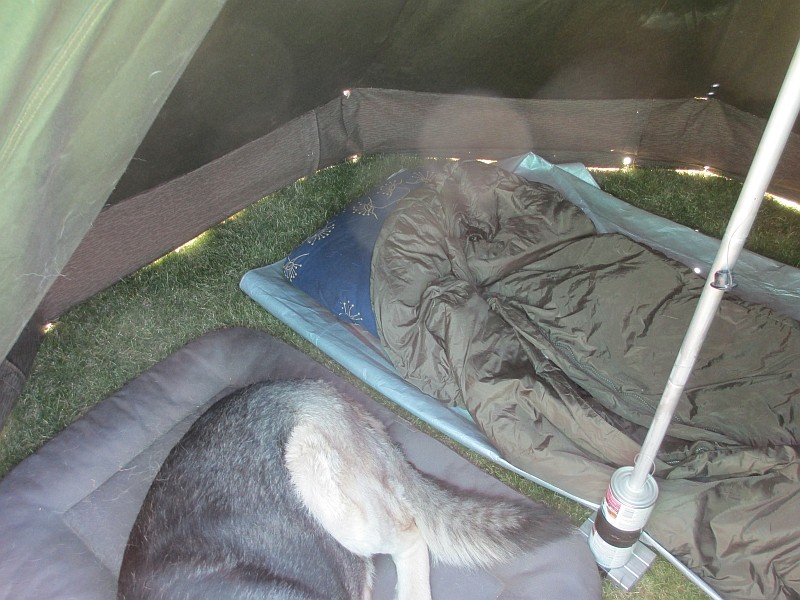 Head and foot space clearly having more space.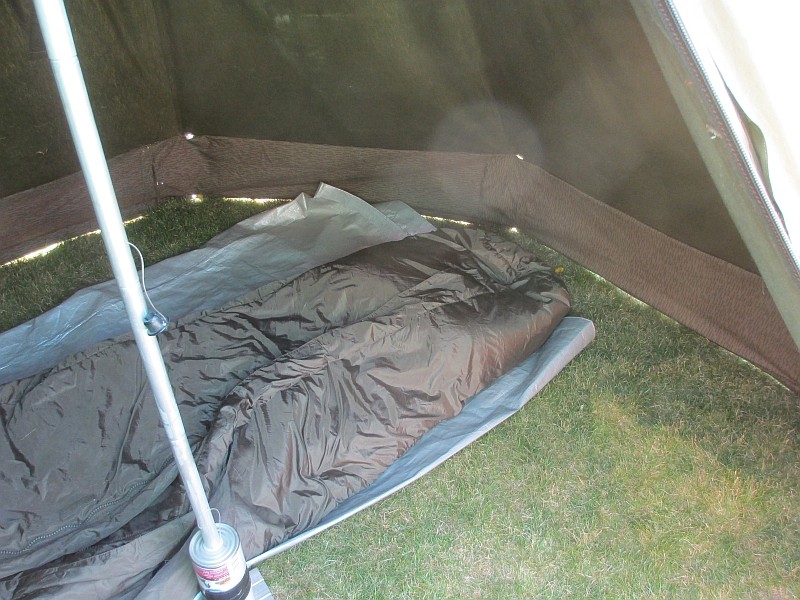 The side skirt was sewn in a couple of cm's from the edge. Additional webbing loops added to relieve stress from the rings.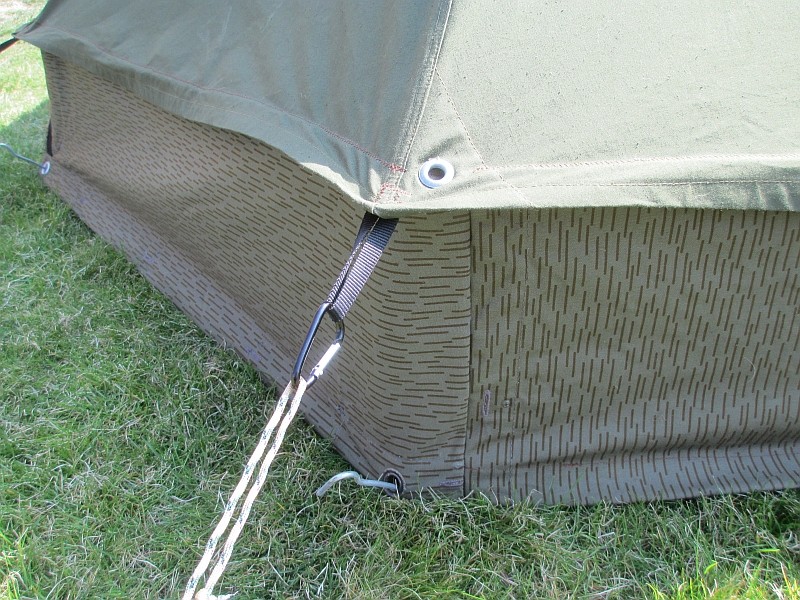 Zippers & velcro added to the front 2 arm holes of the lavvu, where eventually will be a wood stove exhaust coming out.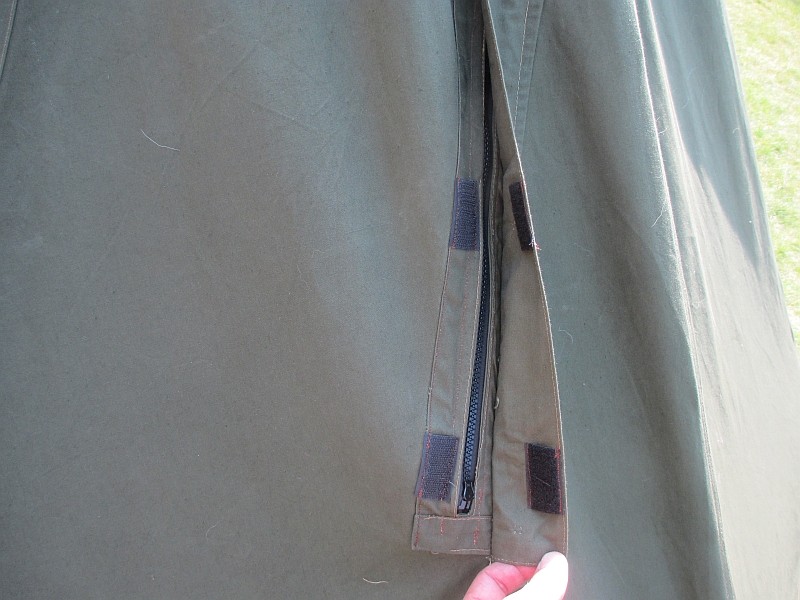 Front side added a old but good strong sleeping bag zipper, and velcro as well. At the bottom the skirt overlaps and can be closed by velcro only.
The backside is completely sewn together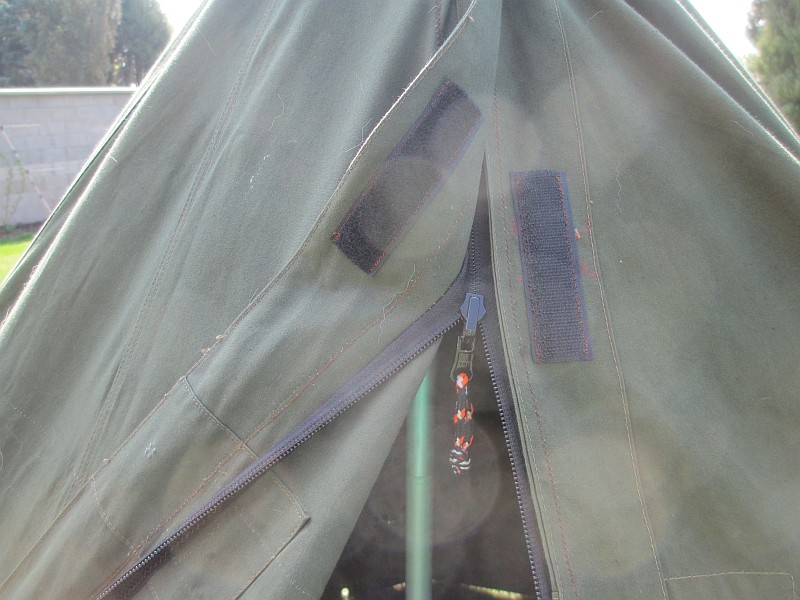 Next I waterproofed it with that silicone spray for jackets, and it helped. 2 cans where needed, but it is completely fine now. I left it out in the garden for a week, where it rained 3 days constantly with sometimes strong winds.
all was fine.
Next step is to build the wood stove.
All the materials I have already, just need to find some free time..